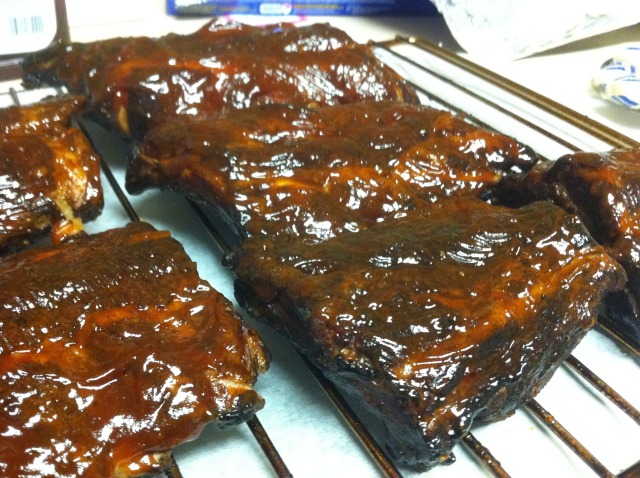 Main ingredients:
2 Pork Rib racks
Rub of choice
Apple Juice
BBQ Sauce of choice
Method:
Cut Rib racks into sections of 3 equal sized (easier to handle)
Place rub of choice on both side of the rib racks and make sure you cover them well.
Place ribs into smoker for 3 hours at 225 degrees.
After 3 hr hour smoke wrap ribs in heavy duty alum foil and put about 1 oz of apple juice and close up tight.
Place wrapped ribs into smoker for another 2 hrs at 225 degree.
After the second run in the smoker unwrap ribs and place on the grill grates and baste the meat side of rib with your BBQ sauce of choice.
Put back into smoker for 1 hr at 225 degrees.
Once the ribs are done with its last hour pull them and let them rest for 20 minutes covered in tin foil.
Enjoy!
Personal Note:
These are super tasty. We ate every rib we cooked. Definitely going to have to do this again.
Pictures:
Recipe was given to me by Mr Nick Zechmann!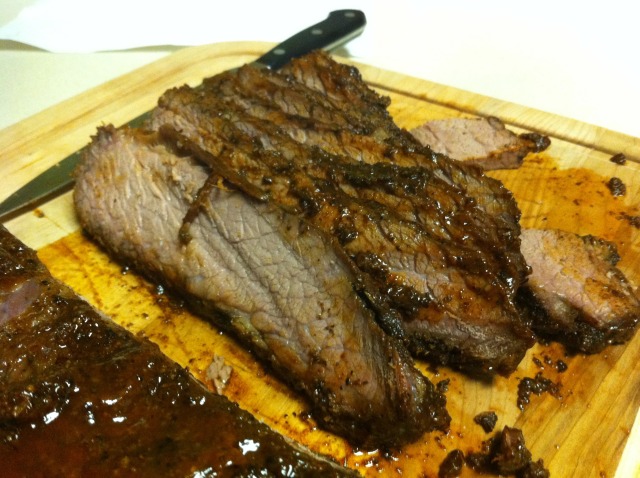 Meat:
1 4.5lb Beef Brisket Flank
Marinade:
½ cup orange juice
½ cup coke
1-½ tbsp. fresh ground black pepper
1-½ tbsp. celery salt
1-½ tbsp. cinnamon
1-½ tbsp. sea salt
1-½ tbsp. garlic pepper
1-½ tbsp. oregano
Rub:
1-½ tbsp. fresh ground black pepper
1-½ tbsp. celery salt
1 tbsp. chili powder
1-½ tbsp. sea salt
1-½ tbsp. garlic pepper
1-½ tbsp. oregano
Finishing Sauce Rub:
1/4 cup brown sugar
1/8 c. honey
1/8 c. orange juice
1/8 c. ketchup
Method:
Place the brisket and marinade in a pan and cover with plastic wrap. Marinate in the refrigerator for at least 2 hours and up to 24 hours.
After marinading period remove the brisket from the refrigerator and let it come to room temperature.
While the brisket is coming to room temperature, apply rub.
Set Smoker to 225 degrees F with ½ hickory and ½ oak wood
Smoke Brisket till internal temperature  180 (rule is 1.5 hours per pound)
Remove the brisket from the smoker and place on a piece of aluminum foil large enough to wrap the brisket.
Turn Smoker down to 150 degrees F
Pour finishing sauce in foil pouch and wrap securely
Place Brisket back in smoker for 1 hour
Let brisket rest for 20 mintes
Slice into perpendicular to grain with 1/8" slices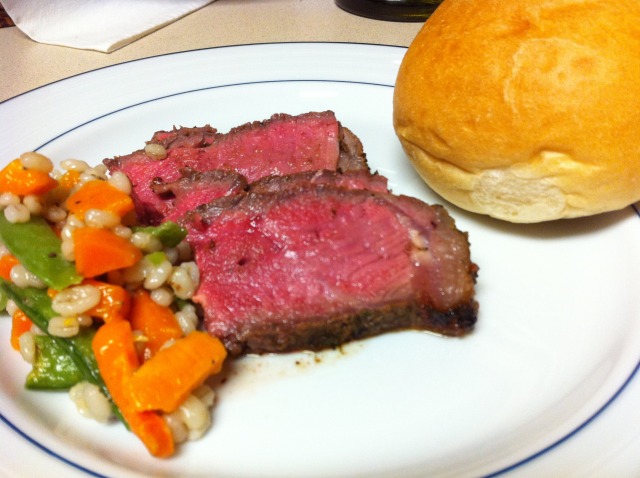 Meat:
1 2-2 1/2 pound porterhouse steak
Rub Ingredients:
5 cloves garlic
1 1/4 tablespoons kosher salt
2 tablespoons Italian parsley, chopped
1 1/2 tablespoons thyme, picked and chopped
1 tablespoon rosemary chopped
3/4 teaspoon smoked black pepper
2 tablespoons grapeseed oil  (DO NOT USE Olive Oil ) - used because it has a higher flash point
After Smoke Season:
1 - 2 tablespoons of good quality olive oil
1/4 teaspoon flaked sea salt
Method:
Bring the porterhouse steak to room temperature before cooking (2 hours maximum.)
In a mini food processor add the garlic and salt and pule repeatedly into a fine mince.  You may need to stop and scrape down the garlic a few time to get all of it the same consistency.
Add the herbs, pepper and grapeseed oil to the garlic mixture and pulse until uniformly combined
Rub the steak with sea salt and then the paste on all sides
Place steak in smoker and smoke till internal temperature reaches 110 degrees. Remove steak from smoker and let rest.   *** NOTE: If you would like your steak to be more or less well done adjust the above temperature. 110 will produce a medium rare steak.
Start your grill and get it as hot as you can get it (600 degrees)
Place steak on your grill and sear the steak on both sides, approximately 2-3 minutes per side. Remove steak from grill and let rest for 5-10 minutes, the steak should reach a final temperature of ~ 135 degrees.
Separate the two portions of meat from the bone in the center of the steak (reserve the bone.) Slice each section of meat into 1/2 inch thick pieces, keeping the sequence of the pieces intact
On a serving tray, rebuild the porterhouse steak around the reserved bone. Drizzle with a good quality olive oil and sprinkle with a flaked sea salt. Serve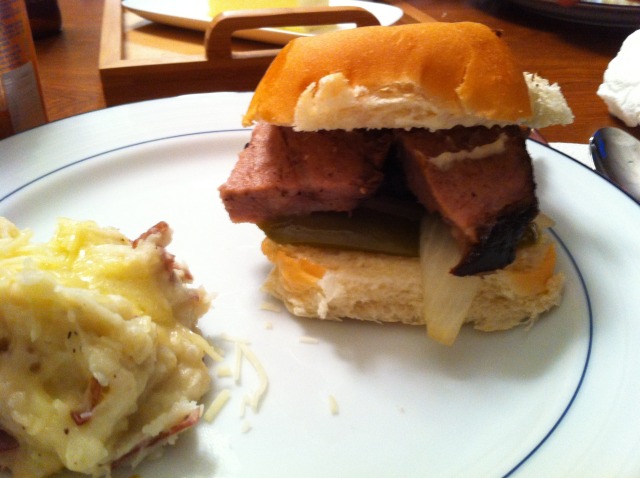 Main ingredients:
8lbs (approx.) boneless whole pork shoulder
4 yellow onions, skin removed
2 green bell peppers
Rub Ingredients:
2 tablespoons smoked black pepper
2 tablespoons kosher salt
1 tablespoon fennel seed
1 tablespoon dill weed
2 tablespoons pimento
1 bay leaf, finely crumbled
3/4 tablespoon onion powder
1/2 tablespoon crushed hot pepper flakes
1/2 tablespoon oregano
1/2 tablespoon basil
1/2 cup fresh parsely
2 tablespoons olive oil
6-8 cloves garlic, chopped
Method:
Combine all seasonings, garlic and oil in a mini food proceesor ( aka magic bullet at my house) and pulse blend
Unroll pork shoulder and rub pork all over with salt, then spice paste, place in a large plastic bag ( I put mine in a vacuum back sealer bag and suck the air out of it)
Let the shoulder stand at room temp 1-2 hours or up to 12 hours in the refrigerator, then allow to stand at room temp for 1-2 hours
Prep your smoker, whatever that may be for your setup.
Place pork, fat-side up in your smoker
Top with any loose seasonings from the bag
After about 6 hours of cooking , add the onions and peppers
Cook veggies until tender and the pork until the internal temperature reached 170 degrees.
Let the pork rest 15 minutes before slicing
Using a meat slicer or carving knife cut thin slice slices for sandwiches
Julianne the onions and peppers and toss with olive oil
Spead mayonnaise on both sides of bun, layer with meat, onions and peppers
Eat yummy tasting samis!
Personal Note:
This is by far is one of my favorites things to smoke. The rub is a little different as it is a wet rub.
Pictures:
Recipe found by attending a class at the Kitchen Window